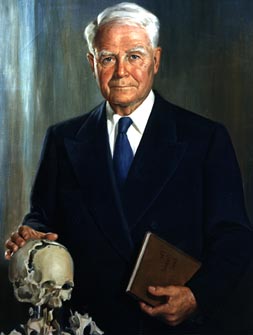 William G. Sutherland DO, Father of Osteopathy In The Cranial Field
"Allow physiologic function within to manifest its own unerring potency rather than apply a blind force from without."
Remembering Dr. Sutherland (1873-1954)

Dr. William Sutherland dedicated his life to advance the art of osteopathy.
Since enrolling in medical school in 1898, Dr. Sutherland began to investigate the body's mechanical function and identify the body's living anatomy (i.e. flow of cranial fluid, texture of tissues, compression of bones, etc.). He did more to advance the concepts of "self-healing"" than any other osteopath of his generation.
Dr. Sutherland was labeled a "heretic" and a "quack" for establishing the common sense principle that the body's central nervous system was in "constant rhythmic motion" and this motion was essential factor in human health and sustaining life. Today Dr. Sutherland's theory about the body's physiologic structure has been conclusively validated with the advancement of computerized diagnostic equipment.
Many of his most ardent critics agreed to investigate the practical application of his findings (i.e. treating patients) for the sole purpose of discrediting him. This was the beginning of his following. Many of his critics admitted defeat and agreed to further study "manual medicine," with the intention of incorporating "osteopathic manual medicine" (OMM) into their own practices.
Dr. Sutherland is best known for viewing the human body as a sophisticated "machine" believing that dysfunction or impairment in one area was bound to compromise the entire structure. He summarized his findings in a paper, which pioneered concepts about the constant rhythmic motion of the human body. Dr. Sutherland identified this "living anatomy" as follows:

Motion at the cranial sutures, the joints linking the 26 bones of the skull

"Expansion and contraction" of the hemispheres of the brain

Motion of the membranes covering the brain and spinal cord

A fluid wave within the cerebrospinal fluid that bathes the brain and spinal cord

Involuntary, subtle motion of the sacrum (tailbone).
The success of Dr. Sutherland's work in treating patients – who suffered from a myriad of health problems – failed to quiet the storm of protest over his work. In 1939, Dr. Sutherland, still hopeful of sharing his work, published his theories in the book titled, "The Cranial Bowl," which not only met with a lackluster reception but subjected him to scrutiny and ridicule from his own colleagues. Undaunted, Dr. Sutherland continued to publish his work, oftentimes, under a pseudonym to protect himself from further criticism. His works include: "Bedside Technic," presented in 1929; "Skull Notions," compilation of six articles; "Cranial Membranous Articular Strains," article published in The Western Osteopath.
After more than four decades, Dr. Sutherland's work was gaining recognition and an increasing number of physicians learned of his "astounding" success in treating patients who had failed to respond to allopathic medicine (i.e. drugs and/or surgery). In June 1940, Dr. Sutherland accepted the invitation to address the International Society of Sacroiliac Technicians in St. Louis. Before long, Dr. Sutherland found himself in great demand to address professional medical societies, instruct physicians in the application of "manual medicine" and requests for consultations and conduct classes. In 1944, Dr. Sutherland agreed to teach a postgraduate course in Cranial Osteopathy at the Desires Moines Still College of Osteopathy and Surgery. The enthusiasm for Dr. Sutherland's work began to firmly take hold in the mid-1940s.
The led to the establishment of an organization, the Osteopathic Cranial Association in 1946, which remains the flagship for his work and a membership rooster of physicians who are most dedicated to his work in the field of Cranial Osteopathy. The organization is known today as the Cranial Academy.
Before his passing at age 81 in 1954, Dr. Sutherland received many well professional accolades and academic honors: The Academy of Applied Osteopathy bestowed the A.T. Still Medallion of Honor; The Minnesota Osteopathic Association conferred an honorary life membership; The Kirksville College of Osteopathy and Surgery awarded him the honorary degree of Doctor of Science in Osteopathy; and the American Osteopathic Association honored him with its highest award: the Distinguished Service Certificate.
Biography: William Sutherland, DO
Dr. Sutherland was born into a working class family in Portage County, Wisconsin in 1873. His father was a blacksmith and his mother a homemaker who raised four children of which Dr. Sutherland was the third child.
His first professional job was as a reporter with a local newspaper in the northern part of Wisconsin. Dr. Sutherland credits his job as an investigative reporter with developing the crucial skill of ascertaining the facts, without emotion and/or prejudice, before accepting the prevailing doctrine of the time.
In 1895, Dr. Sutherland enrolled in a medical school considered controversial, the American School of Osteopathy (renamed the Kirksville College of Osteopathic Medicine). Dr. Sutherland distinguished himself as an extraordinarily bright medical student and graduated at the age of 25 in 1898.
Dr. Sutherland performed his research and practiced medicine for most of his life in Missouri. His hard work and dedication went largely unnoticed in his profession – despite a growing number of loyal students and appreciative patients. With the publication of his early works, Dr. Sutherland was devastated by the avalanche of criticism and was labeled a "quack" for his theories on the mechanism of "primary respiration." Today, Dr. Sutherland's work has been accepted as medical fact.
The strain of those early years took a toll on his first marriage and Dr. Sutherland divorced in the 1920s. Dr. Sutherland and his first wife had one child. Dr. Sutherland remarried in 1927 and remained with his second wife, Ada, for the remainder of his life.
At the advanced age of 78, Dr. Sutherland left the Midwest for a milder climate in Pacific Grove, California in 1951. A short time later, Dr. Sutherland passed away in 1954. Dr. Sutherland left behind an invaluable contribution to medicine and his works remain revered by colleagues in both the United States and abroad.